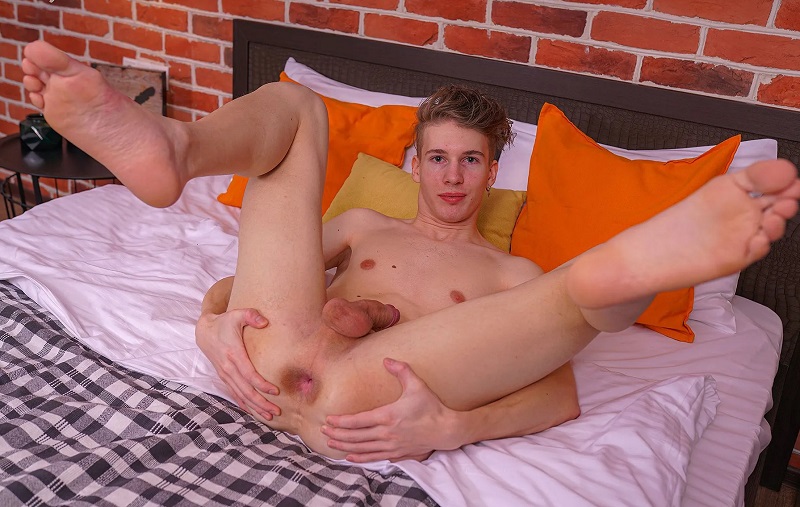 BOYFUN: ALEX HOFER SOLO GALLERY
Cute Russian twink Alex Hofer is back in this solo update from BoyFun showing off his big cock and smooth boy-hole.
Twice a month, the guys who run BoyFun and Jawked dump a huge load of solo and hardcore galleries on me. Usually the hardcore galleries are from recent releases, but solos can go back several months. I know a lot of you guys like solo galleries. And I love those hardcore galleries, since they are actual photos and not just screen shots. Anyways, I am starting here with the Alex Hofer Solo Gallery. Alex is a 20 year old Russian twink with a 7 inch cock and a very tasty and smooth butt hole. And he enjoys showing off both here. These images were taken on the set of his release Alex Likes Anal, where he got fucked by an even skinnier boy called Jeka Gloo (see here).
Alex Hofer only had a few releases on BoyFun, BadPuppy and SouthernStrokes. And I brought you a selection of there here on this blog (see here). If you like solos, I recommend his audition video, where he stuffed a big dildo up his sweet ass (see here). And his hottest hardcore scene was clearly the BoyFun Xmas Special group scene (see here). While he seems to be a total bottom boy, in that foursome everybody pretty much fucked everybody. And so, we can also spot Alex having another boy ride his big cock. Hard to tell if we will ever get to see more of this cutie. His releases span from May 2021 to February 2022. And since these scenes were produced in Russia, and the trade embargo not ending anytime soon, those sites featuring these productions won't be able to buy any fresh, licensed content from them.
BoyFun brings us 3 updates per week, a solo video on Sundays, and two hardcore videos on Tuesdays & Fridays. Get the monthly recurring membership for $29.95, or the 6-months membership for only $21.66/month. A full year is only $16.66/month!
MORE BOYFUN I MORE ALEX HOFER I MORE RUSSIAN TWINKS I MORE SOLOS
Alex Hofer Solo Gallery from BoyFun: