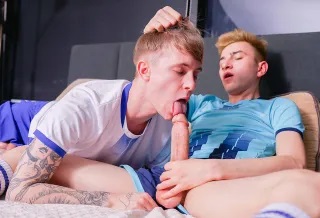 SouthernStrokes: Alpan Stone & Max Gen – Is that your dick?
Very hot release from SouthernStrokes featuring big dicked jock Alpan Stone in a flip fuck with inked hottie Max Gen.
Well wow! Didn't expect that. Already when I brought you the Alpan Stone Solo Gallery earlier this month (see here), I was looking forward to the release of the hardcore scene. But I wasn't expecting it to be this hot. And surprisingly, Alpan Stone & Max Gen – Is that your dick? from SouthernStrokes features these hotties taking turns fucking each other. As far as I know, Alpan has so far only topped his scene partners. But here, he goes for a ride on Max' hard dick. Of course after plowing the inked hottie's smooth boy-ass. Don't know if he enjoyed that new experience. After riding Max for a while, he flips back to being the top. I guess that's more how he feels at home. With his fat cock stuffing some hungry hole.
Max Gen doesn't look as fresh as when he was new to all of this. I have seen him party on life shows with his buddy Ben Huller and a couple of these new Russian gay porn performers. Alpan was also present during some of these threesomes and foursomes and moresomes. I am surprised we are still seeing this content from Russia. With the embargo and everything going on. Most of the sites that featured this type of content are now buying content with Colombian models. Honestly, I am not a huge fan of this. And I do love Colombian boys. But I started to really like these Russian guys. And the content usually had a pretty high production value. I hope these sites don't entirely stop featuring their content.
SouthernStrokes On Sale: Get one full year for only $90.00 ($7.50 per month!) – or the monthly recurring membership for $29.95. Lifetime membership is $299.95.
MORE SOUTHERNSTROKES I MORE ALPAN STONE I MORE MAX GEN I MORE RUSSIAN TWINKS
Alpan Stone & Max Gen Flip Fuck from SouthernStrokes:
( Watch the full trailer here! )