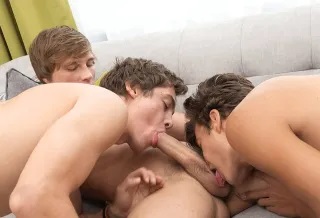 BelamiOnline: Ashton Montana Three Way
For their last update of the year, BelamiOnline has teamed up three of their most popular performers in a great threesome.
Here comes a very special release from BelamiOnline as their last update of the year 2022. For the Ashton Montana Three Way, they have teamed up three out of their five most popular performers. By members votes, on both BelamiOnline and Freshmen. Usually, I would call a scene with a constellation like this one the Ashton Montana Threesome, but back in 2021 I already brought you scene with this title from Freshmen, with Ashton bottoming for big dicked tops Riff Dornan and Kieran Benning (see here). Totally love Ashton Montana. He's a great bottom, with a very nice ass and a big uncut cock. And he likes it when his guys are big. Sad to find out here that Ashton is leaving the company. While they do have lots of content produced with him waiting to be released, everybody of course hopes he will come back soon.
The story here is that Ashton slipped in the bathroom after taking a shower. And now he needs help from his buddies Helmut Huxley and Tom Houston. While the guys are trying their best to put a bandage on Ashton's ankle, I am wondering if super-star Helmut Huxley is planing to introduce the dad-bod to BelamiOnline. Anyways, of course they also try to cheer up the poor boy. And since they are gay porn performers, they do this by sucking his thick cock and taking turns fucking his great bubble butt. It doesn't take long and Ashton has totally forgotten about his injury and is feasting on his friends' big uncut cocks. The scene ends with three yummy cum shots and one happy bottom boy!
MORE BELAMIONLINE I MORE ASHTON MONTANA I MORE HELMUT HUXLEY I MORE TOM HOUSTON
Ashton Montana Three Way from BelamiOnline:
( Watch the full trailer here! )