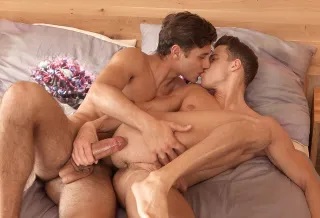 BelamiOnline: Peter Annaud & Jon Kael Flip Fuck
This week BelamiOnline treats us to a great flip fuck scene featuring thick dicked Peter and handsome Jon.
And for a change, a flip fuck from BelamiOnline served to us in one video. And not like usually as a double feature. However, it sure looks like the Peter Annaud & Jon Kael Flip Fuck here was supposed to be split into two parts. Since both guys cum twice here. First top is Peter Annaud, and then it's Jon Kael's turn. A little research brought up that this is actually the first time these two sexy young studs are fucking with each other. They have only met in a few behind-the-scenes videos. Hard to believe. These two make a perfect couple. Big juicy cocks, sexy bubble butts, and both are versatile.
When Peter stops by the studio, Jon is doing the dishes. Apparently, Peter has heard from Jack Harrer, that Jon's smooth bubble butt is made for big things. Of course he's thinking about his super thick cock. Jack, who's also very well endowed of course knows about Peter's oversized dick. And so the hung guys exchange information about guys who can take it. Jon is flattered, but wants to know what's in it for him. Of course Peter is a little surprised. He probably though Jon would immediately go down on his knees and service him. And so he offers Jon, that he can he fuck him later. Sounds like a deal for Jon. Both guys look super hot and fit here. And Peter's massive cock is always a pleasure to watch in action.
MORE BELAMIONLINE I MORE PETER ANNAUD I MORE JON KAEL I MORE THICK COCKS
Peter Annaud & Jon Kael Flip Fuck from BelamiOnline:
( Watch the full trailer here! )